Whether you're a retinol newbie or seasoned pro, this limited-edition set is catered to every skin type. Includes a full-size Retinol Cica Moisture Recovery Serum, a full-size pack of Retinol Cica Patches, and a deluxe mini of our Green Tea Hyaluronic Acid Serum.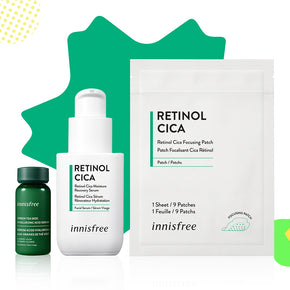 What's Included

Worried that you have to avoid retinol during the harsh winter months? Smooth, hydrate and soothe skin with this three-step trio, available exclusively on innisfree.com. The Retinol Cica Moisture Recovery Serum is infused with an optimal cocktail of retinol and salicylic acid to help gently smooth and clear buildup from pores. Ceramides, Hyaluronic Acid, and Cica also work to cushion the formula to make this retinol a gentle yet effective option, even for sensitive skin. Layer the Green Tea Serum for added hydration and spot care with love using the Retinol Cica Focusing Patches to help calm the look of flare-ups.

$37 Value

Retinol Cica Moisture Recovery Serum

1.01 fl oz | 30ml

RETINOL, REIMAGINED. Experience a softer, hydrated, and smoother complexion with your perfect skincare match! This gentle daily retinol serum helps improve the look of visible imperfections, skin elasticity, and firmness for acne-prone and sensitive skin.

$0 Value

Green Tea Hyaluronic Acid Serum 15ml

$15 Value

Retinol Cica Focusing Patch

9 count

TINY BUT MIGHTY!🍀 These overnight dissolving microneedle patches with potent ingredients help deliver intensive soothing and hydrating spot care for troubled skin – all while you sleep!